FEI SOS: your information
just a smartphone
away.
FEI studies and develops innovative and eco-friendly technologies able to save lives in case of emergency
What is FEI SOS
FEI SOS: your information is just a smartphone away
FEI SOS is a device (sticker or sticker) which contains a chip. You will be able to insert your personal data, your medical data and emergency contacts.

If you are hurt, another person or a rescue will be able to scan your device with a simple smartphone and contact a family member or use your medical information to save your life.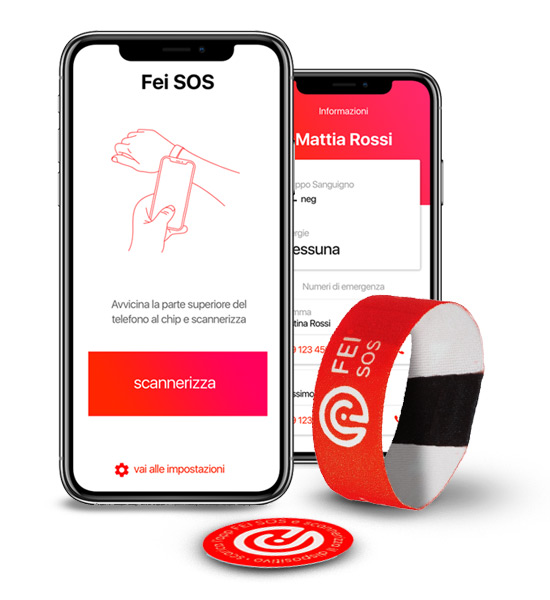 Do you want to know how it works? Watch the video.
Technical features


BATTERY FREE
Thanks to NFC technology, our devices are all battery free... This way you don't need to recharge them.





INTERNET FREE
The devices don't need an internet connection.
Personal data are directly inserted in the chip!




AS LIGHT AS A FEATHER
With its 3 grams weight, you won't even tell you are wearing the bracelet.





IPOALLERGENIC
The fabric used for the bracelet is elastic and ipoallergenic, safe for you and your loved ones.




WATERPROOF
Waterskiing, scuba-diving, or simple bathing: Fei SOS is not afraid of liquids! With a waterproof smartphone, you can scan your bracelet underwater!





ITALIAN DNA
The bracelet (as most of our devices) is designed in Italy.





UNBEATABLE PRICE
An unbeatable price for its category.
Only 19,90 € for a device.



How does it work
Have you seen anybody feeling sick while wearing our device? don't worry, it is very simple to use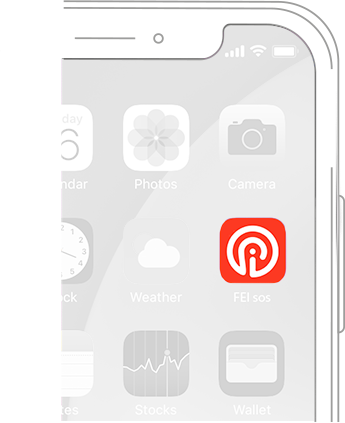 01
Download the app FEI SOS from App Store or Google Play Store. Make sure the icon is the same as the one on the side.
Please note:
To use the app you need to have the NFC integrated in your smartphone. For further information, go to
What is NFC?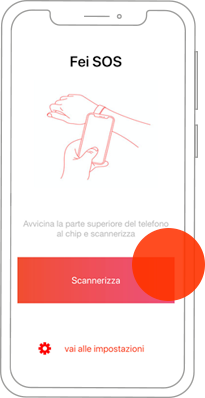 02
Open the app and press the scan button.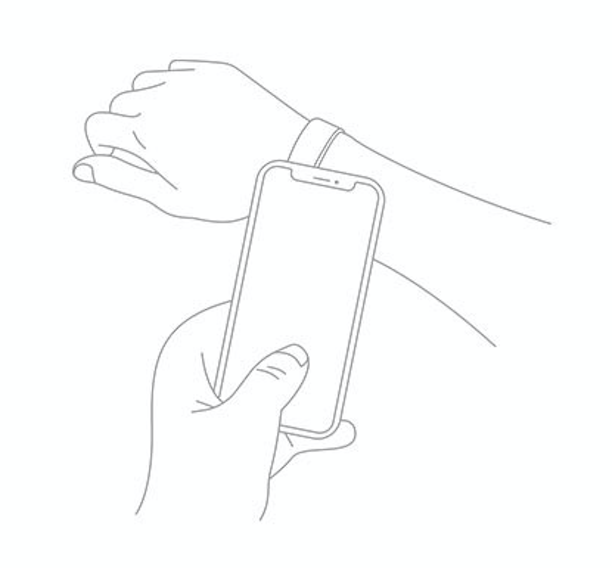 03
Place your smartphone near the black part of the FEI SOS bracelet or in the centre of the FEI SOS sticker. Depending on your smartphone, you will have to place the upper, central or bottom part of your smartphone near the device.
sito.slider_8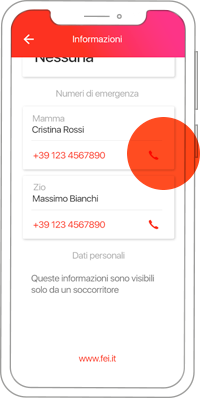 04
Once you have scanned the device, press the red, phone-shaped button to call the injured's family member or a contact.
Are you a rescuer?
Ask your organisation a code to read private information such as therapies, treatments etc. If your association doesn't have a code, contact us using the button!


FC Technology
What is NFC and how does it work?
NFC stands for Near Field Communication, The technology helps to interract with other devices close to it.

It works at a maximum distance of 4 cm circa and during its use there is a wireless communication between the devices . wireless communication between the devices. This technology doen not need wifi, 3G, LTE or others. It simply works by placing the two devices near.
Is my smartphone enabled for NFC?
It's very easy to know if your smartphone has NFC technology.

If you have an iPhone, all you need to know is that all models after iPhone 7 (iPhone 7 Plus, 8, 8 Plus, X) have NFC technology. iPads and iPhone Toch do not have it.

If you have an Android device it is a little more complicated. To know if you have NFC go to settings. Search "NFC" in the search bar (if you don't see it "slide" your finger from top to bottom). If you find any result, your phone has NFC. But don't stop here, open the settings and enable the NFC to use our devices!


All is left to do is choosing
your product!
FEI SOS Bracelet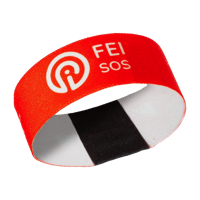 ---
Dimensioni : 18 cm (wrist)
Materiale : elastic fabric

Indicato per : running, swimming, bathing


Go to shop
FEI SOS Sticker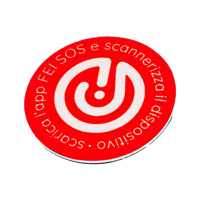 ---
Dimensioni : 22 mm (diameter)
Materiale : resin

Indicato per : ski, motorbike, and other sports to which the sticker can be applied


Go to shop
Live your passions with the greatest safety!
News from the FEI world
FEI SOS at SKIPASS 2018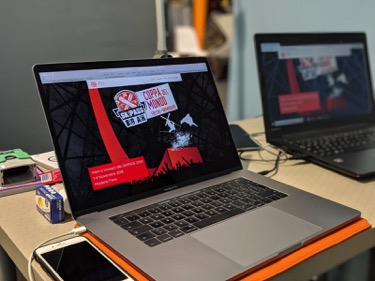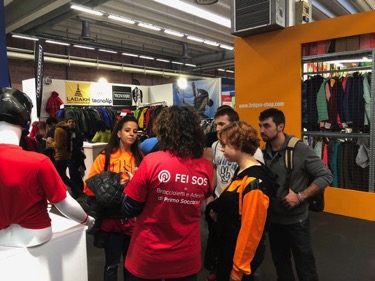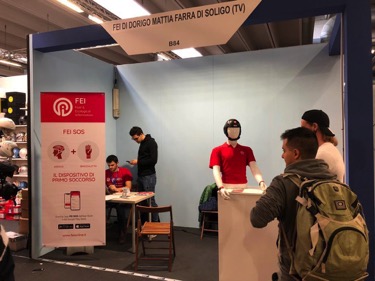 ---
FEI SOS at REAS 2018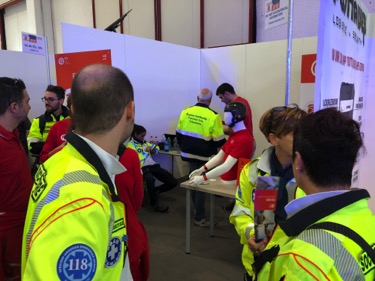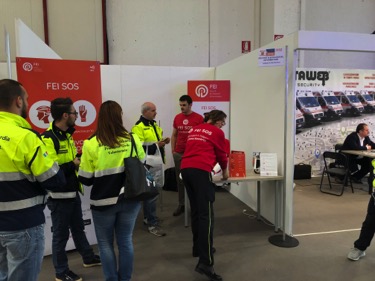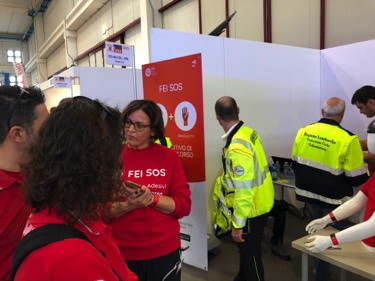 ---
FEI - Fast & Ecological Information
A small company that wants to do things big
Via Mercatelli sant'Anna 20, Susegana, Treviso
info@feionline.it
P.IVA 04957080262